Ponies For Sale
Title: Amazing pony not to be missed
Price: £1700
Email:
Phone: 01695576407
Height: 12.2
Sex: Mare
Colour: Spotted Roan
Age: 12
Discipline: Leadrein/first ridden
Location: Ormskirk
dream is a lovely pony who is kind ,gentle, very safe and reliable .ideal for a child who is coming off the leadrein but has plenty to offer a more experienced rider. as she has competed at riding club and get thought to championships were she has won. dream has done pony club activities including camp. she has 3 good straight paces and a sensible jump. she is easy to handle and good to do in all ways. loves attention will stand for hours too be groomed and pampered. sadly out grown 5 * home only for this much loved pony
£1700 with tack and wardrobe
price reflects current market not standard of pony
01695576407
07769554203
Title: BRIDESWOOD KEEP A SECRET(GBR)W.P.B.R 21848
Price: £450
Email: ejfarmery@aol.com
Phone: 07894962894
Height: 121cm
Sex: Mare
Colour: Bay
Age: 6
Discipline: First ridden/lead rein
Location: Burscough
Born 24th March 2007. Bay mare. Stands at 121 cm unshod. Very eye catching mare with excellent blood lines TELYNAU PICASSO PENTREF PRELUDE. No lumps bumps etc. Easy to do in every way, loves attention. This pony really will make it to the top, she is a real head turner and moves amazing. She does need bringing back into work as i have no jockey and my little girl has lost total interest. Shes worth a lot more than what she is being advertised for but the right showing home is more important. Please call for more info, Up to date with jabs,teeth etc. Thanks
New advert:26-11-2013
Title: Handsome 12.2 Gelding for sale
Price: £Open to se
Email: katiew_100@hotmail.com
Phone: 07734470525
Height: 12.2
Sex: Gelding
Colour: Liver Chestnut
Age: 8 years
Discipline:
Location: Stabled in Mancheste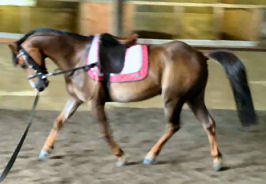 Dam: Princess Maddy Hy-Black
Sire: Rotherwood Toy Symphony
A handsome gelding who has extravagant movement, with three beautiful paces.
I have owned this pony since April and he has been a pleasure to own. Unfortunately, for sale due to my personal circumstances. He is a very kind natured pony with lots of character!
He is good to handle, catch, load and is good with the farrier. However he does require sedation for the dentist or for clipping. (I will ensure he is up to date with both the farrier and dentist before he is sold).
This pony is a fantastic all-rounder that enjoys both flat work and jumping and he now requires a confident little rider to have fun with him. He is forward going and quite sharp so would therefore not be suitable for a very young child. He is currently being rode by a 6year old and has not put a foot wrong.
He is rode in a snaffle at all times and he is very well schooled. He has recently spent four weeks being schooled by Jabar Yaqub(www.breakingandschooling.co.uk) and has come on leaps and bounds.
Unfortunately he has not yet had a showing career but this pony will go far in the right hands.
Requires a 5* knowledgeable home.
Open to sensible offers.
Please contact Kate: 07734470525
New advert:13-11-2013
Title: For Sale
Price: ££1450 Inc
Email: daveandnell@virginmedia.com
Phone: 07984 026466
Height: 11hh
Sex: gelding
Colour: Dun
Age: 10
Discipline: Fab first pony LR/FR
Location: Formby
Our fab boy is totally outgrown and must go. He is just on 11hh, 10 yrs old Dun Gelding, brilliant in all ways, will do either LR/FR. We bought him almost 4 years ago when my daughter was 5, since this time they have done pretty much everything together including 3 residential pony camps, tons of shows, pony parties around a bouncy castle, hacking unaided on the beach and sandhills, hacking on open fields and really busy roads. He has been dressed in all sorts and doesnt bat an eyelid. He is totally gorgeous with a long flowing mane and tail that the kids love to stand and plait and stick ribbons in for hours on end. He will jump small cross poles on his own or lead-rein jumping. Here is the link for you tube from his last fancy dress which shows how bombproof he is (its well worth a look just for entertainment value but excuse my squeaky voice on it ha ha) http://youtu.be/Ywvr5UKWX4wp.

He is fully up to date with all his injections/wormers/trims etc and has NEVER been sick or sorry.
A 5* loving home is exceptionally important to us.
This is a heart breaking decision forced due to a change in circumstances so please, genuine enquirers only.
He will come with full English tack tons of rugs - everything - there is nothing that you will need to buy for him.
New advert:28-10-2013
Title: Show pony
Price: £2500.00
Email: joanneward@theleafletbusiness.
Phone: 077380968039
Height: 12 hh
Sex: Mare
Colour: Liver Chestnut
Age: 13
Discipline: SHP/LR/FR/WHP Dressage
Location: Parbold
12hh Liver Chestnut Mare, 4 white socks & Blaze. Very Pretty. 13 yrs. Ideal SHP/WHP/LR or FR. Always placed.
Green passport. Sire: Bunbury Figaro: Dam: Hattongate Lollipop. Genuine 1st or 2nd pony, easy to do in every way. Lives in or out. Hacks out 1st or last or alone. Always willing and safe. Attends local shows, always well behaved. Qualified for North West Showing Championships 2013 & The Premier Championships 2013.
Three lovely paces and small safe jump. Travels & loads easily. PUK summer & winter championships 2007 & 2008. Ridden HOYS qualifiers. All vaccinations, worming, dentist & farrier up-to-date, easy to catch, comes to call & easy to clip. Price reflects market and not quality of pony.
New advert:17-10-2013

Previous page 1 2 3 4 5 6 7 8 9 10 11 Next page
Adverts Per Page